This Week in History
May 9, 1860
Lincoln is introduced in the Illinois State Republican Convention as the "Rail Candidate" for President.
May 14, 1841
Lincoln's law partnership with Stephen Logan is announced in the Sangamo Journal.
May 15, 1862
President Lincoln approves the establishment of the U.S. Department of Agriculture.
Today in Lincoln's Life
Lincoln's Words
"I appeal to you again to constantly bear in mind that with you, and not with politicians, not with Presidents, not with office-seekers, but with you, is the question, "Shall the Union and shall the liberties of this country be preserved to the latest generation?"
--Speech to Gov. Morton in Indianapolis, February 11, 1861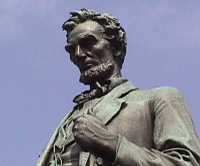 Lincoln Events
No Events Until Further Notice
Welcome

News Highlights

Un-Civil War: Accusations Fly Between ALPLM, Foundation
Here's Your Hat, What's Your Hurry?
LaHood Resigns from ALPLM Board
ALPLM Ends Relationship with Foundation
New ALPLM Director Announced
ALPLM Breaks Barriers in Naming New Director
ALPLM Board Names New Director
Reynolds Wins 2021 Lincoln Prize
Center for Lincoln Studies Opens
Lincoln Home Neighborhood Expansion Expected
Plan Seeks to Expand Lincoln Home Historic Site
Author Wayne Temple Active at 96
Mast Takes Helm at Museum Foundation
Commentary: Hellmers on the Lincoln Cottage Plan
ALPLM Wrestles with Hat, Looks for Leadership
Firing of State Historian latest ALPLM Controversy
Lincoln Cottage Replica Planned
Lincoln Mortgage Document Discovered
Tick Tock: ALPLM Issues Go Beyond Hat
ALPLM to Decide Status of Lincoln Hat
Report Disputes Lincoln Hat Authenticity
Loan Extension Granted for Taper Collection
Illinois Governor's Mansion Reopens
The Truth Outs: ALPLM in Disarray
IG Recommended Firing ALPLM Director
Historian Rodney Davis Dies at 87
Governor Names ALPLM Board Members
Lincoln Bible Donated to ALPLM
ALPLM Legislation Goes to Illinois Governor
Abraham Lincoln's $6 Million Hat
New Salem is Getting Old Again
Campaign to Buy Lincoln Document