This Week in History
May 22, 1849
Lincoln is granted a patent on a device to lift boats over shoals.
May 23, 1860
Lincoln writes to George Ashmun, president of the Republican National Convention, formally accepting the nomination for President.
May 25, 1861
President and Mrs. Lincoln attend a state funeral in the White House East Room for Colonel Elmer Elsworth, who was assassinated the day before in Alexandria, Vitginia.
Today in Lincoln's Life
Lincoln's Words
"I appeal to you again to constantly bear in mind that with you, and not with politicians, not with Presidents, not with office-seekers, but with you, is the question, "Shall the Union and shall the liberties of this country be preserved to the latest generation?"
--Speech to Gov. Morton in Indianapolis, February 11, 1861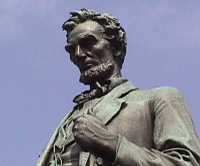 Lincoln Events
ALA February Events Rescheduled for June 21
Welcome

News Highlights

Historian Dick Hart Dies at 79
Former ALPLM Director Mackevich Dies at 82
Lincoln Foundation Reinvents Itself
Lincoln Presidential Foundation Relaunches
Historian Mark Plummer Dies at 92
Hellmers: The Truth about the Lincoln Cottage Proposal
ALPLM Receives Grant to Digitize Images
Guy Fraker Donates Lincoln Letter to ALPLM
House Bill Introduced to Expand Lincoln Home Historic Site
Senate Bill Introduced to Expand Lincoln Home Historic Site
Un-Civil War: Accusations Fly Between ALPLM, Foundation
Here's Your Hat, What's Your Hurry?
LaHood Resigns from ALPLM Board
ALPLM Ends Relationship with Foundation
New ALPLM Director Announced
ALPLM Breaks Barriers in Naming New Director
ALPLM Board Names New Director
Reynolds Wins 2021 Lincoln Prize
Center for Lincoln Studies Opens
Lincoln Home Neighborhood Expansion Expected
Plan Seeks to Expand Lincoln Home Historic Site
Author Wayne Temple Active at 96
Mast Takes Helm at Museum Foundation
Commentary: Hellmers on the Lincoln Cottage Plan
ALPLM Wrestles with Hat, Looks for Leadership
Firing of State Historian latest ALPLM Controversy
Lincoln Cottage Replica Planned
Lincoln Mortgage Document Discovered
Tick Tock: ALPLM Issues Go Beyond Hat
ALPLM to Decide Status of Lincoln Hat
Report Disputes Lincoln Hat Authenticity
Loan Extension Granted for Taper Collection
Illinois Governor's Mansion Reopens
The Truth Outs: ALPLM in Disarray
IG Recommended Firing ALPLM Director
Historian Rodney Davis Dies at 87
Governor Names ALPLM Board Members
Lincoln Bible Donated to ALPLM
ALPLM Legislation Goes to Illinois Governor
Abraham Lincoln's $6 Million Hat